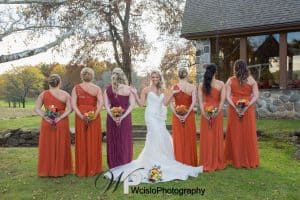 Since 1988, I have been the proud owner of Wcislo Photography. I strive to capture the emotion behind your memorable moments and will do anything and everything possible to ensure that you will have a fun experience and will truly love the end result. At Wcislo Photography, we take a relaxed and candid approach to each event, allowing for our clients to become very comfortable with us.  In keeping with this idea, our  photographs reflect a more natural look. These beautiful images will do more than just decorate your home, in that they will become beautiful heirlooms for you and your family to treasure forever. Whatever form these images take; albums, prints, or portraits, they will be memories that you can display with pride. Working with Wcislo Photography, you an expect to receive the highest quality photographs from a truly memorable event.
DURING THIS TIME, WCISLO PHOTOGRAPHY IS AVAILABLE TO SCHEDULE A NEW EVENT OR TO RESCHEDULE ONE THAT IS CURRENTLY BOOKED.   WE ARE VERY FLEXIBLE WITH OUR SCHEDULING AND WILL WORK HARD TO SUCCESSFULLY ACCOMMODATE OUR CLIENTS!
OUR OFFICE IS OPEN SEVEN DAYS PER WEEK  
PLEASE DO NOT HESITATE TO CONTACT US FOR ALL OF YOUR PHOTOGRAPHY NEEDS AT 413-786-8669 OR 413 530-9411
It's our job to capture your event in a professional and efficient manner, and we want to show you the results you can get when you turn to an experienced company like Wcislo Photography.